Now Featuring
Family Days in the Summer 2017
The Boise & Nampa Reel Theatres are proud to present the return of our Family Days in the summer program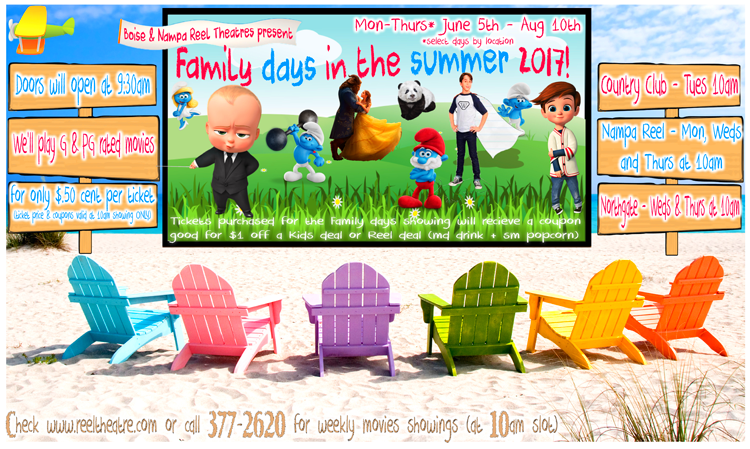 From the week of June 5th - Aug 10th
We'll open our doors at 9:30am on Family Days
We'll play select (2D) G & PG rated movies
Tickets will be $.50cents for ALL ages
Each ticket purchased at the 10am hour will also receive a coupon good for $1 off a Kids or Reel deal
Coupons and $.50 ticket price ONLY valid during 10am Family Days shows
Country Club Reel Family days are Tuesdays at 10am (4550 Overland, off Orchard)
Nampa Reel Family days are Mon, Weds & Thurs at 10am (2104 Caldwell Blvd)
Northgate Reel Family days are Weds & Thurs at 10am (6950 W. State St)
Relax, take a break from the heat and enjoy a family friendly movie without breaking into the piggy bank :)
Summer Kid Show Series 2017
The Ontario Reel & Valley 11 Cinemas are excited to announce The 2017 Summer Kid Show Fundraiser Series!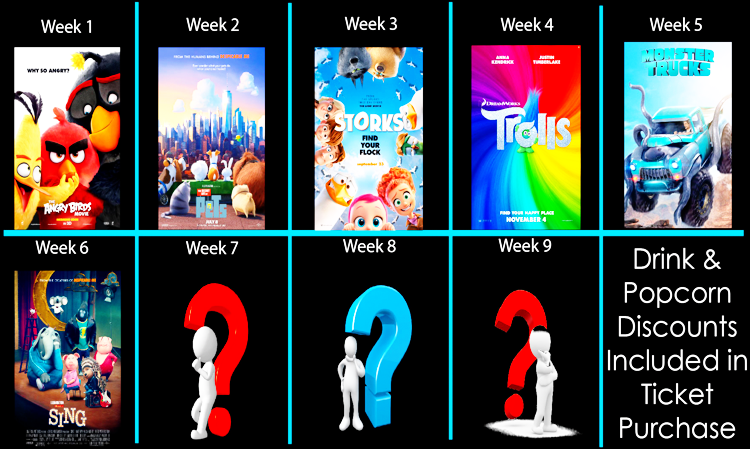 Join us for the summer fun, all while supporting your local elementary schools!
9 movies for $8
Same price for kids & adults
Drink and popcorn discount coupons included with every ticket purchased
Tuesday, Wednesdays & Thursdays at 9:30am
The kid show series begins on 6/6 at Valley 11 Cinemas (Anderson, CA)
The Kid show series begins on 6/13 at The Ontario Reel Theatres (Ontario, OR)
A huge thanks to all of our sponsors
CA Anderson Family Fitness, Frozen Gourmet Inc., Laundry World, Les Schwab Tires of Anderson, Lithia Chevrolet of Redding, Pepsico, Players Pizza of Anderson, The Gel House Salon, The Real Estate Group and Tri Counties Bank
OR Americold of Ontario, Columbia Bank, Steve's Hometown Toyota, Malheur Fed Credit Union, May Trucking Co., St. Luke's Medical Center and Swire Coca Cola.
*Titles are tentative and are subject to change, please visit www.reeltheatre.com for that individual theatres weekly listings
The Kuna Reel Theatre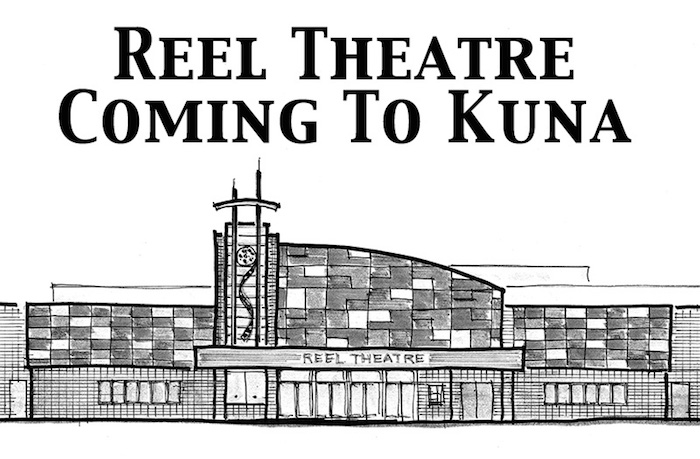 UPDATE: Here's the latest update on the progress of the theater. Within the last two years, a significant increase in commercial development activity in the valley has created several real challenges for us to meet our initial target date. The greatest challenge that has affected the project and planning has been the rising cost of construction. The high demand for labor and building materials has caused real shortages and thus the increase in cost has become significant. These high costs have forced us to revise the project, as well as allow some additional time to pass for demand to subside and pricing to stabilize. This is not unique to our project. Numerous construction projects throughout the Treasure Valley have been temporarily put on hold for these same reasons. We could not begin building sooner as there was road and utility work that were required to be completed by the developer of the subdivision. Fortunately, that work is now ready to move forward and should begin in the next couple of weeks. Currently, our general contractor is rebidding our latest revisions and we will decide within the next 60 days whether to go ahead with a 2017 opening or whether the project will have to be delayed another year beyond that. Our commitment to construct the theater in Kuna has not changed, but we must be able to build it for a reasonable dollar amount. Thank you for your inquiries, patience, and support!
The Reel Theatre is pleased to announce our future expansion into the City of Kuna at Meridian Road and Deer Flat Road, adjacent to Ridley's Family Market. The theater will open in 2017 and will feature:
DLP digital projection in all 9 auditoriums
Dolby Surround 7.1 (or better) audio in all auditoriums
Premium Large Format screen in select auditoriums
Premium fully immersive audio in select auditoriums
RealD's impressive 3D experience in select auditoriums
The newest movies available
Stadium luxury high back seating
The architectural design of the building will have a striking visual appeal and be a great addition to the other new retail businesses being built on the site. The Reel Theatre is a locally owned Boise based company that is excited to serve Kuna and the surrounding areas. Please direct additional questions to management via our contact form or by calling 208-377-2620 Ext #6.

Coming Soon
COMING SOON to The Ontario Reel Theatres (Ontario, OR) & Valley 11 Cinemas (Anderson, CA)