Now Featuring
Oscar viewing party 2017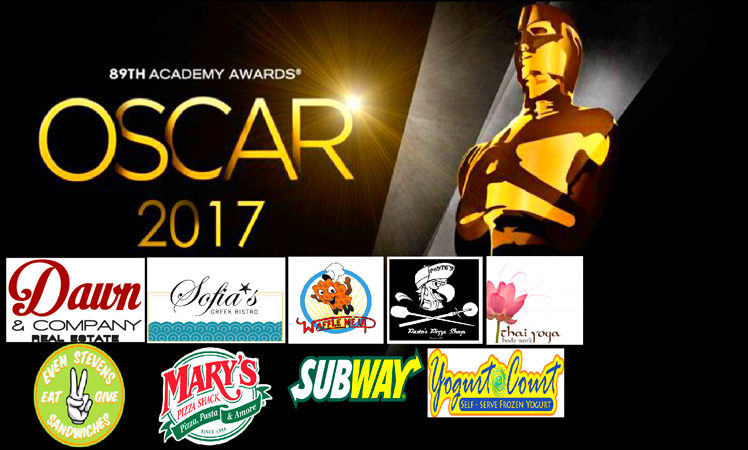 You're cordially invited to our annual Oscar viewing party, 2017 edition.
Catch the 89th annual Academy Awards on our BIG screen
Hear all the jokes and jabs on our Dolby Surround 7.1 audio
Light refreshments will be provided for early attendees (while supplies last)
Stick around for the games and prizes!
Best dressed local celebrity contest!
Fun for the entire family
Prizes: Movie tickets, gift cards, local vendor prizes and more!

A HUGE thanks to all our sponsors

When: Sunday, 2/26

Where: Northgate Reel Theatres (6950 W. State St, Boise ID)

TIme: 5pm-MST at The Northgate Reel Theatres. Red carpet arrivals begin at 5pm, ceremony starts at 6:00p

Where: Valley 11 Cinemas (1816 State Hwy 273, Anderson CA)

Time: 4pm-PST at Valley 11 Cinemas. Red carpet arrivals begin at 4pm, ceremony starts at 5:00p

Tickets: Pick up your free tickets at the Northgate Reel & V11 box office now (must have a ticket to ensure a seat)

Please support local these local businesses
http://www.sofiasgreekbistro.com/
https://www.maryspizzashack.com/
http://www.subway.com/en-us/findastore?zip=96007#
http://jshay4.wixsite.com/mysite
The Kuna Reel Theatre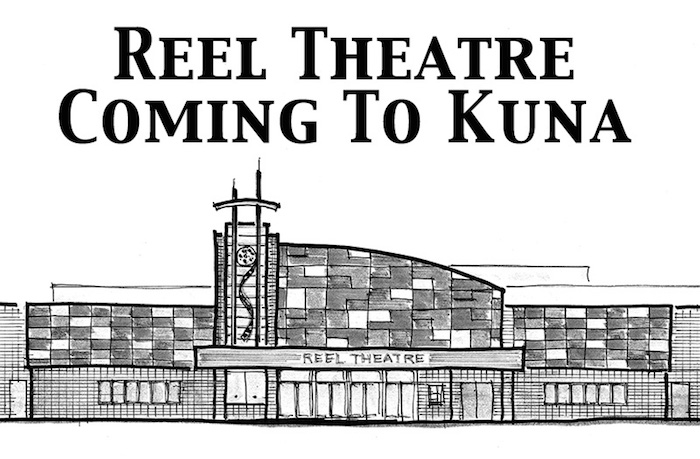 UPDATE: Here's the latest update on the progress of the theater. Within the last two years, a significant increase in commercial development activity in the valley has created several real challenges for us to meet our initial target date. The greatest challenge that has affected the project and planning has been the rising cost of construction. The high demand for labor and building materials has caused real shortages and thus the increase in cost has become significant. These high costs have forced us to revise the project, as well as allow some additional time to pass for demand to subside and pricing to stabilize. This is not unique to our project. Numerous construction projects throughout the Treasure Valley have been temporarily put on hold for these same reasons. We could not begin building sooner as there was road and utility work that were required to be completed by the developer of the subdivision. Fortunately, that work is now ready to move forward and should begin in the next couple of weeks. Currently, our general contractor is rebidding our latest revisions and we will decide within the next 60 days whether to go ahead with a 2017 opening or whether the project will have to be delayed another year beyond that. Our commitment to construct the theater in Kuna has not changed, but we must be able to build it for a reasonable dollar amount. Thank you for your inquiries, patience, and support!
The Reel Theatre is pleased to announce our future expansion into the City of Kuna at Meridian Road and Deer Flat Road, adjacent to Ridley's Family Market. The theater will open in 2017 and will feature:
DLP digital projection in all 9 auditoriums
Dolby Surround 7.1 (or better) audio in all auditoriums
Premium Large Format screen in select auditoriums
Premium fully immersive audio in select auditoriums
RealD's impressive 3D experience in select auditoriums
The newest movies available
Stadium luxury high back seating
The architectural design of the building will have a striking visual appeal and be a great addition to the other new retail businesses being built on the site. The Reel Theatre is a locally owned Boise based company that is excited to serve Kuna and the surrounding areas. Please direct additional questions to management via our contact form or by calling 208-377-2620 Ext #6.

Coming Soon
COMING SOON to The Ontario Reel Theatres (Ontario, OR) & Valley 11 Cinemas (Anderson, CA)