Now Featuring
Country Club Plaza's 25th Anniversary Celebration
We're 25yrs old and you're invited to the grand celebration
Free admission to The Goonies and/or Raiders of the Lost Ark with non-perishable food donation to the Idaho Food Bank or $.25 per ticket.
Complex wide treasure hunt! Each store in the Country Club plaza will offer clues/prizes that will lead you to a reel treasure :)
Complete the treasure hunt and be entered for a drawing to win 1 of 3 Weekend getaways at the Elk Horn Lodge in Sun Valley ID (must be 18+ to win)
Food & Ice cream trucks will be on site!
Win free prizes from local area vendors with a spin on the prize wheel
Come see the updates we've made to the theatre!
Fun for the entire family!
ONLY at The Country Club Plaza is located at 4550 Overland Rd, off Orchard St
Family Days in the Summer 2017
The Boise & Nampa Reel Theatres are proud to present the return of our Family Days in the summer program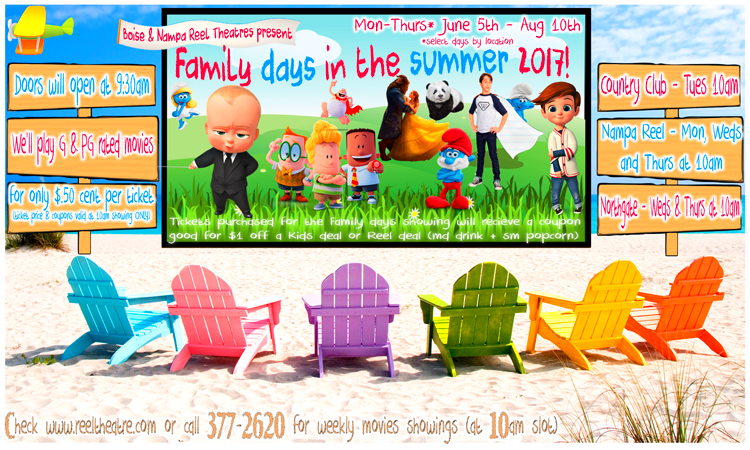 From the week of June 5th - Aug 10th
We'll open our doors at 9:30am on Family Days
We'll play select (2D) G & PG rated movies
Tickets will be $.50cents for ALL ages
Each ticket purchased at the 10am hour will also receive a coupon good for $1 off a Kids or Reel deal
Coupons and $.50 ticket price ONLY valid during 10am Family Days shows
Country Club Reel Family days are Tuesdays at 10am (4550 Overland, off Orchard)
Nampa Reel Family days are Mon, Weds & Thurs at 10am (2104 Caldwell Blvd)
Northgate Reel Family days are Weds & Thurs at 10am (6950 W. State St)
Relax, take a break from the heat and enjoy a family friendly movie without breaking into the piggy bank :)
The Kuna Reel Theatre

060917_UPDATE: We have been receiving many inquiries regarding the status of the theater to be built in Kuna. We appreciate the interest and enthusiasm of the community. We remain excited about the possibility of building a new location in the area and to become part of the community. Our efforts to get the theater built have had many challenges that have delayed the start of construction. Because of strong growth in the Treasure Valley, construction pricing is at a premium, so much so that we have not been able to align the projected costs with our proposed plan. We will continue to revise our plan and design in an effort to reduce costs to a level that will make it possible to start construction. Thank you for your interest, inquiries, patience and support. We will update you again when we have more definitive plans.
Coming Soon
COMING SOON to The Ontario Reel Theatres (Ontario, OR) & Valley 11 Cinemas (Anderson, CA)