Now Featuring
Now Hiring for the Caldwell Reel
Come join us
Job description - Team members support the management team in the day-to-day operations of the theatre. Members may work in the box office selling tickets, concessions selling snacks or the ushers stand, taking tickets and cleaning (or a combination of all the above).
Summer Kid Show Series 2018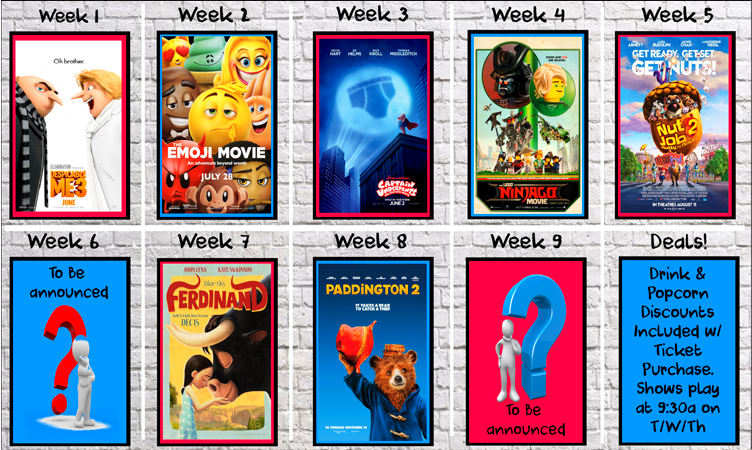 Get out of the heat, catch some great movies and support local schools!
Nine movies for $8
Shows play on Tues, Weds and Thurs at 9:30am
Series begins the week of June 11th and concludes the week of Aug 8th
Drink and popcorn discounts included in ticket purchase
Everyone occupying a seat must have a series ticket
Tickets are the same price, for all ages
A portion of the ticket sales go back to the schools!
Only at the Ontario Reel Theatres (477 SE 13th St., Ontario OR) and Valley 11 Cinemas (1816 State Hwy 273, Anderson CA)
Caldwell Reel Theatre

The Reel Theatres are pleased to announce that we have broken ground on a new, premium 11 screen movie theater in downtown Caldwell to showcase the latest movie releases in the country. We will be offering unprecedented state of the art projection, sound systems, and luxury seating options not found anywhere else in the Treasure Valley.

The opening of the Indian Creek Plaza, renovation of the historic downtown block, new restaurants, and the new Reel Theatre are set to open in late spring/early summer 2018. The vision of a rejuvenated downtown Caldwell is real, and we are excited to become a part of it!
Coming Soon
COMING SOON to The Ontario Reel Theatres (Ontario, OR) & Valley 11 Cinemas (Anderson, CA)
The Kuna Reel Theatre

100317_UPDATE: We would like to provide you with an update on the theater project in Kuna. We remain committed to doing all we can to bring a theater to the community. The decision to move Caldwell ahead of Kuna came about because of much lower costs for the Caldwell project. We are a locally owned, small movie exhibiting company without the scale or resources that are required to construct two new locations simultaneously. We appreciate your patience and will look to Kuna as soon as it is possible.