Now Featuring
Eagle Luxe Reel hiring event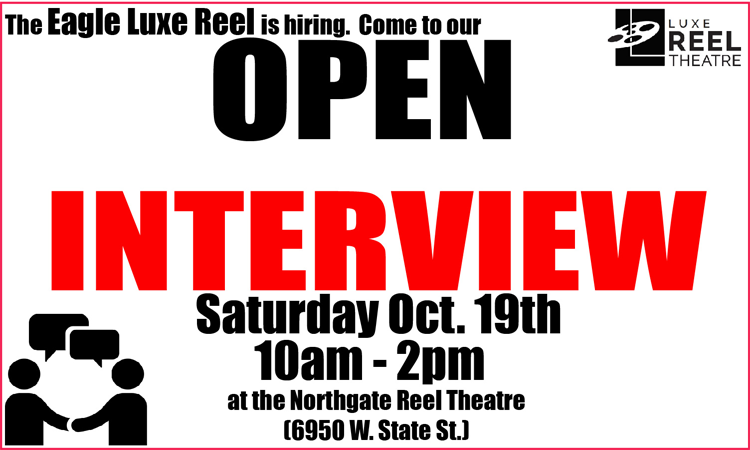 We'll be holding open interviews to fill floor staff and management positions for the Eagle Luxe Reel Theatre, set to open this November.
Bring a completed application or resume
Take an interview time ticket and we'll see you that day.
Saturday, 10/19
Interviews will be held at the Northgate Reel Theatres, located at 6950 W. State St, Boise ID
From 10am to 2pm
BSU Bronco's Football on the HUGE screen!
GET IN THE GAME AT THE NORTHGATE REEL THEATRE
Tickets are FREE
Catch all the action on the giant movie screen
Relax on the rocker seats

Hear every tackle with Dolby digital surround sound

Pick up your free tickets at our box office every Monday, on game week
Tickets are on a first come first serve basis
Saturday 10/19 BSU @ BYU, kick off at 8:15pm
ONLY AT THE NORTHGATE REEL THEATRES (6950 W. State St.)
Coming Soon
To The Caldwell Luxe Reel (Caldwell, ID), The Ontario Luxe (Ontario, OR) & Valley 11 Cinemas (Anderson, CA)